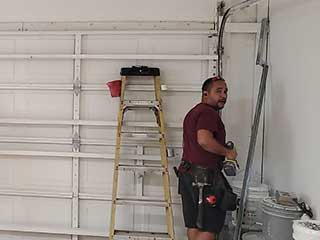 Fixing Extension And Torsion Springs
Is your garage door difficult to open or to keep closed? Then you most certainly have a spring problem and we're here to fix it. Count on us to precisely adjust the force which your spring system holds to give you fast opening and proper closing. If your door is completely stuck in place because of a broken spring, we'll replace it. Our garage door repair services include emergency assistance to help you get out of situations like this one. Expect quick response and a fast solution to your problem. All of our replacement springs are of top quality.
Dealing With Opener Problems
Most often, a broken trolley prevents the electric operator from opening the door. We'll replace it to restore the system's smooth operation. You can count on us for motor repair too. Usually, the motor fails because of a snapped main gear. Our technician will install the perfectly matching new component in no time. We are fully stocked on spare parts to provide the best opener repair, regardless of the device's type or brand. Our services include replacement of faulty safety sensors and opener remotes too.
Timely Cable Replacement
If your overhead door is making scraping sounds, a frayed cable is most likely to blame. With our company, you will get a new one in no time. If the cable has already snapped, rely on us to replace it in the shortest possible time. In cases when the door has gone off track, our solution includes door adjustment and track repair.
For more information, browse the rest of our website or give us a call today!
Want more? Let us take care of:

Garage Door Receiver Repair

Extension Spring Adjustment

Garage Door Remote Clickers

Garage Door Tune Up Services