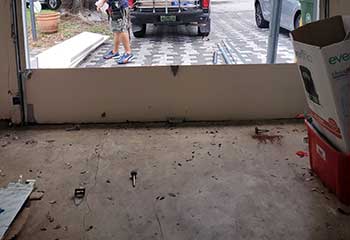 Roller Replacement
Customer Issue: A minor impact dealt some minor damage to the lower garage door panels and tracks, but the biggest issue was the two rollers broken off.
Our Solution: We couldn't lift the door off its tracks with the roller hubs bent so badly, at least without further damaging the door or track system. We had to pry the two rollers off in place, stretching the bottoms of the tracks in the process. After removing the door, we performed a full track and roller replacement before reinstallation.
Rosalie Willis
- Belleville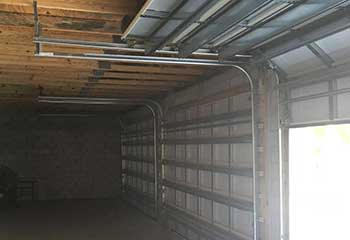 Garage Door Off Track
Customer Issue: The customer's garage door got off track during an attempted bootleg customization.
Our Solution: The tracks were damaged during whatever the customer was trying to do, but not beyond repair. We disconnected and took the garage door off track completely, and then bent the tracks back into shape. They'll need replacement themselves in a few years, but for now, we just reinstalled the garage door and made sure that it worked.
Daniel Jorgenson
- Bloomfield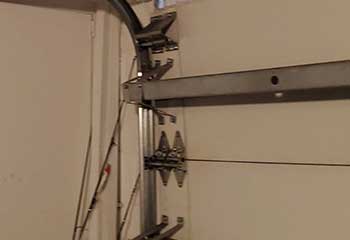 Cable Replacement
Customer Issue: The customer heard creaking from her lift cables, and noticed that they were cracked, frayed, and buckling.
Our Solution: Catching the problem early made it much easier to solve! We disconnected the lift cables for replacement, and cleaned and oiled the couplings and spools. The new pair of cables went in easily, and we ran a few test cycles to make sure there weren't any surprises. The springs and opener were all much more recently replaced and showed no signs of wearing out soon themselves.